Prodia and M4C02: workshop during EuroMOF 2017 in Delft
ProDia and M4CO2, a EU financed project focussing on metal organic frameworks to capture CO2 are proud to announce their joint dissemination workshop during EuroMOF 2017 in Delft. ProDia will contribute with progress reports on shaping technology as well as application experience on methane storage in tanks for vehicles.

> Detailed program here

We welcome registrations for this workshop through the organisers
Prodia first results on air purification
Through the contribution of several partners ProDia have demonstrated that by selecting the right MOF material and the appropriate shaping method the breakthrough time for protection masks can be increased up to 2x under standard conditions, up to 5x under humid conditions.

This allows to either design lighter and more compact air protection masks or longer periods of exposure, in this case to a NH3 contaminated environment. A significant improvement over the current materials used.

Pilot scale demonstration of synthesis and shaping is planned for 2018.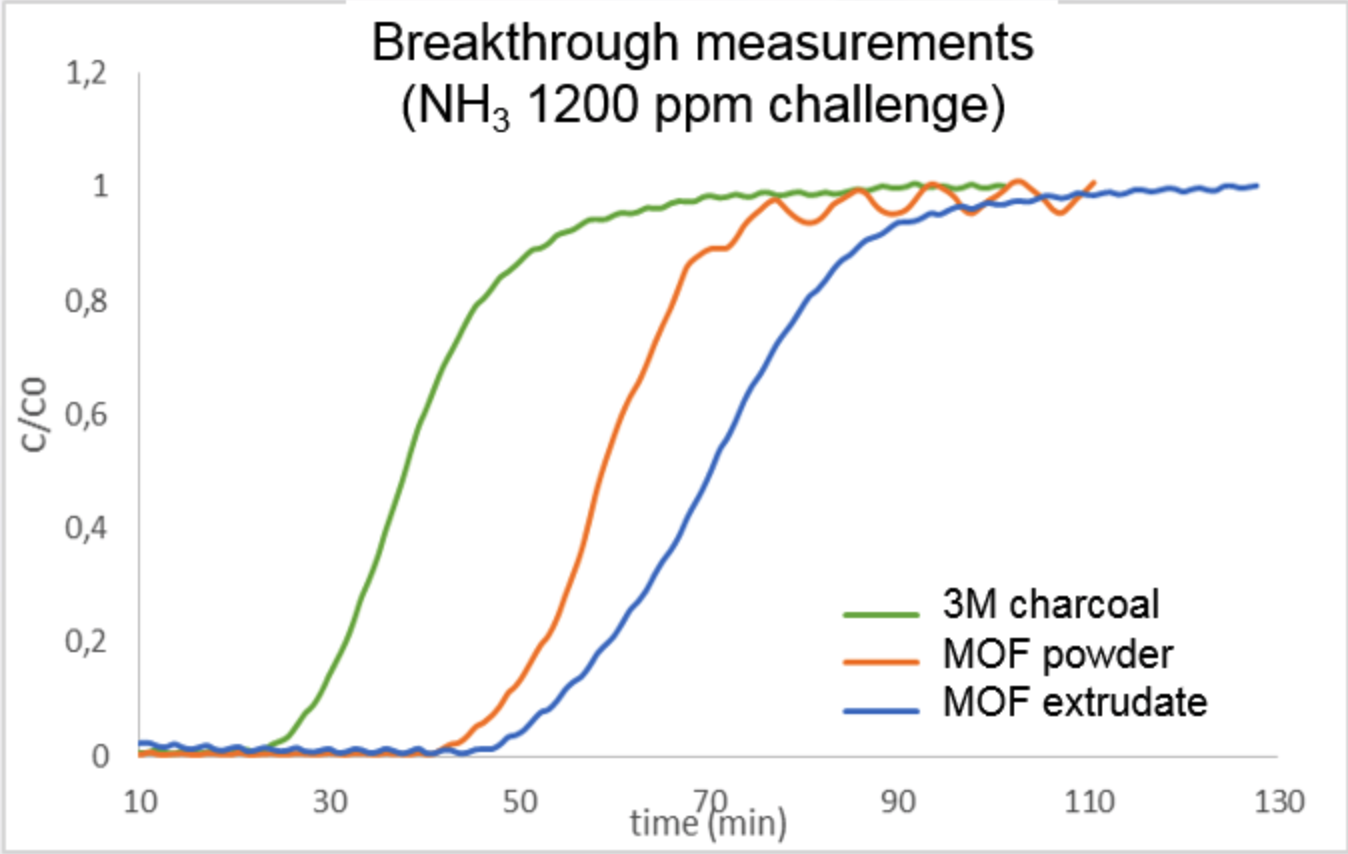 Overview of Shaping Methods
As we progress in our research on various shaping forms for the relevant materials for ProDias fields of application our ProDia partner IKTS has put together an overview of shaping methods which are to be tested in prototype set up in order to demonstrate capabilities and explore scale up options. Have a look at the various options - contact IKTS for details and MOFapps for info on applications and Material /shaping combinations.
Foaming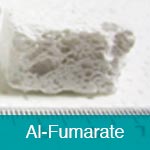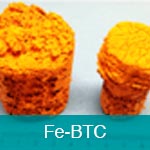 Granulation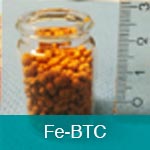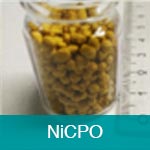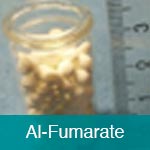 Slip casting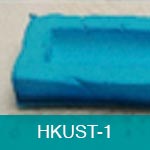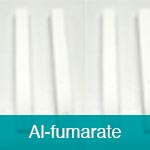 Extrusion/Pelletization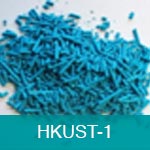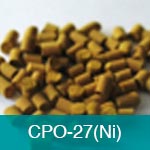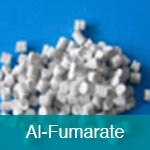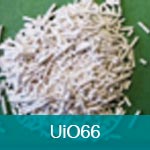 Compression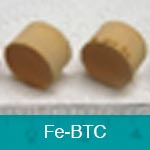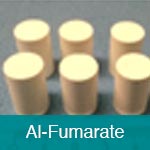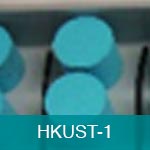 DEFNET-Workshop-6
ProDia partner Johnson Matthey, Sheena Hindocha invited to contribute to DEFNET workshop. Sheena will share some of the test results generated under ProDia´s reseach . The workshop is also an ideal platform to contact industrial partners who support DEFNET and share experience with research teams from a related project.

DEFNET-Workshop-6:
"Advanced Spectroscopic Characterization of MOFs"
19.06. -21.06.2017
University of Utrecht, The Netherlands
Details at www.defnet-etn.eu
5th International Conference on Multifunctional, Hybrid and Nanomaterials
Energy, the environment and human health have emerged as strategic priorities not only in research but in all aspects of our lives. Hybrid materials have already demonstrated good promise in addressing and offering solutions in each of these priority areas. Richard Blom of Sintef will presnt a poster at the 5th International Conference on Multifunctional, Hybrid and Nanomaterials, March 6.-10. 2017 in Lisbon, Portugal on MOF Sphere preparation and optimisation. This research was supported by the ProDia project. For details contact Richard richard.blom@sintef.no
ProDia links with GRAMOFON, a H2020 project
ProDia is happy to announce that we have established a link with GRAMOFON a H2020 project which is focussed on CO2 adsorption utilizing microwave technology.


CNRS Lyon received the long awaited Belmax II instrument from BelJapan
The instrument will allow the CNRS team to make the gas / vapor adsorption measurements more efficently as up to 4 probes can be measured in parallel. CNRS Lyon and MOFapps are investigating optimized materials for adsorption heat pumps, the Belmax will help to make the relevant measurements for water isotherms at 6 kPa. The financing of this equipment was possible through the ProDia funds.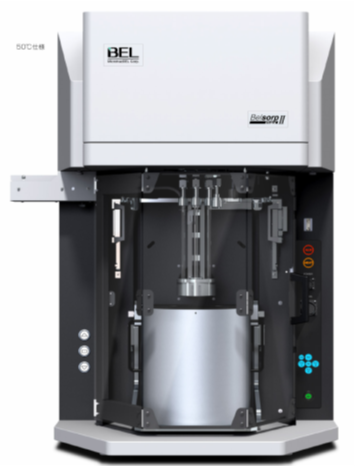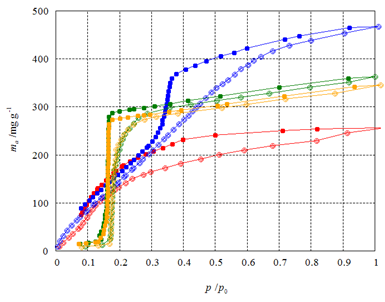 We wish all ProDia members and friends happy Holidays and a successful 2017!
USTAN is celebrating the official spin out of MOFgen. As featured in a variety of newspapers and even local TV MOFgen has succesfully finalized a financing round to establish as an independent company.

The funds will allow MOFgen to continue to get their technology market ready and validated.

Cheers and good luck from the ProDia team, we are proud to support the scientific entrepreneurs Morven, Steward, Russel and their team.

http://www.heraldscotland.com/business/14959631.Medical_tech_firm_wins_funding/


MOF Technologies receives new extruder for production scale up. After almost 10 months from ordering and rigorous factory acceptance tests MOF Technologies received their long awaited extruder for mechano chemical production of a wide variety of MOF materials. The extruder is part of the ProDia scale up project and will allow the production of target materials in large scale quantities. The coming months will be: testing, testing, testing and quite soon production of commercial peoducts.

We keep our fingers crossed that the ramp up of the equipment will go smoothly.
ProDia meets in Barcelona. Arranged by the INC2 team the consortium met in the prestigious building to review the current status of the project.

All project goals were met so far, thanks to the management efforts of Richard and David as well as the tremendous team support from all participants.

Even more reason to celebrate with local wine and special treats from the Catalonian cuisine.
September 2016
Prodia links up with M4CO2 project
Apart from linking the projects and intensifying the discussion on findings Prodia and M4CO2 have agreed to hold a joint workshop in 2017. Location and presentations still to be reviewed.

ProDia member MOF Technology presents one of the first commercial applications for MOFs worldwide.
See press release at http://www.moftechnologies.com/news/

ProDia present at MOF 2016
The ProDia booth at MOF 2016 was a good spot for ProDia members to meet industry contacts and colleagues for discussions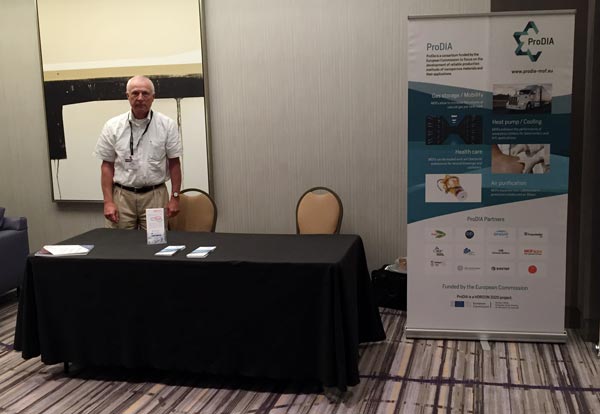 June 2016
ProDia member MOFgen wins first price in Emerging Technologies Competition conducted by the Royal Society of Chemistry
MOFgen´s Stewart Warrender and Morven Duncan presented their application of metal organic frameworks to give catheters an anti bacterial function in London at the Royal Society of Chemistry.
After the presentation and an intensive Q&A session the winner was ...MOFgen !

ProDia participating in PILOT project workshop in Brussels
In an effort to make sure that research work generated in H 2020 projects will find its way to marketable products 12 selected projectsin the field of nano porousmaterials and processes were invited to a EU workshop in Brussels.

Instructed by experts for SME business development and guided by investment specialist the participants went through practical exercises how to build up business plans and how to impress potential investors. Nik Seidenader, MOFapps, took the course on behalf of ProDia and will share the lessons learned with colleagues from the consortium.
Mai 2016
Talk "Shaping MOFs for application" at the EMN Conference
Richard Blom of Sintef, Project coordinator for ProDia is invited to talk about "Shaping MOFs for application" at the EMN Conference on MOFs in Qingdao , China June 12 - 16th 2016 http://emnmeeting.org/MOF/

Richard will share his experience in defining the proper MOF presentation: powder, foam, extrudate, pellet or other depending on the the specific scientific or industrial application. As the leader of the ProDia consortium he will also be in a position todiscuss the first published results of the ProDia work during the conference.

April 2016
MOF 2016 Congress
Karl Petter Lillerud from the University of oslo was nominated keynote speaker for the event in Longbeach CA in September 2016. ProDia will be present with an information booth representing all consortium partners.

First six months
ProDia members met in Oslo on April 18th to share first results . As per the milestone planning the preferred MOF material candidates for the scale up of each of the target applications could be narrowed down after preliminary testing. Those material candidates will be used for scale up models and prototype work.

International Catalysis Award 2016
International Association of Catalysis Societies (IACS) is pleased to have Dr. David Farrusseng as the recipient of the 2016 International Catalysis Award, for his remarkable achievements on the rational design of porous materials for separation, adsorption, and catalysis. The ProDia team is extremely happy to have David on board as co project manager and work package leader.

ProDia is creating new jobs
We are proud that through the work of the first few months in ProDia we could already see that new team members were hired who will dedicate a significant part of their time to research for ProDia. We welcome Yoldes Khabzina and Jeremy Dhainaut ( CNRS) , Alexandre Legrand ( icn2 ) , Helge Reinsch ( MOFapps ) Bilel Said ( IFPEN).

MPM PILOT workshop
Horizon 2020 was invited to send a representative to the NPM Pilot workshop in June 2016 . This workshop is focussed on busines plan development and commercial concepts for start ups based on resarch efforts of EU projects. We expect that this exercise will help us to use current methodology to econmically exploit the know how and IP generated throughout our project.

ProDia member invited to industry workshop in the US
Fraunhofer Gesellschaft in Dresden togehter with their US parnters will arrange a one day workshop inviting representatives from the industry and potential investors . MOFapps wil participate and present potential applications for nanoporous materials including ProDia´s main target areas health , gas storage, heat pumps and gas separation.